Everyone knows it is risky to 'put all your eggs in one basket.' The same principle applies to investing. It is better to diversify investments across a range of assets rather than just invest in a few. This reduces the risk that a portfolio's performance could be dragged down by too much exposure to a few bad investments. 
Past performance is not a guide to future performance. Do remember that the value of an investment and the income generated from them can fall as well as rise.
Asset classes tend to behave differently in various economic conditions. In a certain environment, equities might do well, for example, while bonds may struggle. In this scenario, someone invested purely in bonds would be at risk of capital losses whereas a more diversified investor would be less exposed.
Portfolio diversification also increases the chances of benefiting from the returns of the best-performing assets. Fig 1 shows the performance of different asset types and how the best performers change from year to year. For example, Global ex UK Equities was the worst performing sector in 2011 (-5.2%) but was the best the following year (+10.8%).
A well-diversified portfolio can reap the benefits of being exposed to the best-performing asset classes year after year, whatever the economic and market climate.
Fig. 1: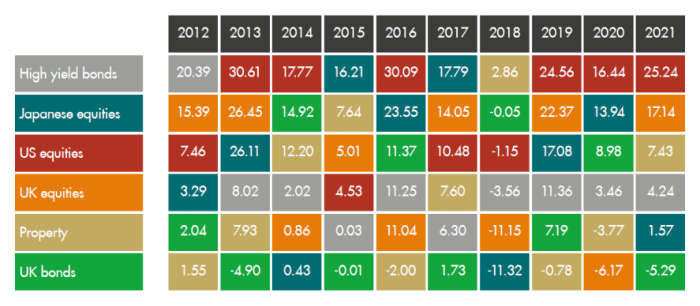 How to diversify
To diversify their portfolios, investors should invest in a range of asset classes, companies, industrial sectors and countries. This can be achieved by investing in different funds or by choosing a fund that invests in a range of assets, such as a multi-asset fund.
It is important to get the balance right across assets. It is accepted industry wisdom that your asset allocation – or how much of your money you put into each asset class - is a major factor in driving total returns and reducing risk.
If you are unsure of how to do this, you should seek professional advice from a qualified financial adviser, but a multi-asset fund could appeal to those investors who would like the asset allocation in their portfolio to be chosen for them by experts and adjusted over time as economic and market circumstances change.
An expanding choice
The investment options available to investors to diversify their portfolios is now greater than ever.
The range of investment funds has increased significantly over past decades and many of them invest in specialist, niche areas and specific countries as well as the broader asset classes of equities and bonds.
The choice of options can be daunting for many investors though. Again, if in doubt, you should seek the professional advice of qualified financial advisers.
Types of asset allocation
Asset allocation usually breaks down into strategic and tactical.
Strategic asset allocation: Strategic positions are designed for the long term. In asset allocation funds, strategic weightings are usually reviewed once a year.
Tactical asset allocation: Tactical calls are more short term in nature, usually to take advantage of changing economic or market conditions and buying opportunities presented by over-sold assets.