Liontrust supports the goals of the Paris Agreement to limit global warming to well below 2 degrees Celsius, and preferably to 1.5, compared to pre-industrial levels.

Liontrust is operationally carbon neutral by offsetting its Scope 1 and 2 market-based emissions, supporting projects to provide clean water access for families in Laos and solar cooking for refugee families in Chad.

Liontrust is committed to support the goal of net zero greenhouse gas emissions by 2050 or sooner in line with global efforts to limit warming to 1.5C in Scope 3 investments.

A company's greenhouse gas emissions are classified into three scopes. Scope 1 are direct emissions from company owned and controlled resources. Scope 2 are indirect emissions from the generation of purchased energy. Scope 3 are all indirect emissions – not included in scope 2 – that occur in the value chain. In Liontrust's case, Scope 3 includes emissions from companies that we have invested in.
Net Zero Now Financial Advisers Initiative
Liontrust is proud to be a founding development partner for a new sector-specific tool to help advisory businesses measure, report and reduce greenhouse gas emissions. Liontrust worked alongside four other financial advisory firms in this pilot of a new industry roadmap to Net Zero. This puts the tools for climate action in the hands of the UK's 5000+ financial advisers and was developed by Net Zero Now, the carbon accounting and climate action platform which aims to help businesses of all sizes fight climate change and boost business success.
Liontrust worked with Net Zero Now to develop the sector-specific roadmap to Net Zero which sits at the heart of the Initiative, with input from academics, climate experts and a pilot group of financial advisers. This roadmap is aligned with the latest global climate science, including the Science Based Targets Initiative and the Greenhouse Gas Protocol, which set standards and best practice for measuring and managing emissions.
Longer-term, firms participating in the Net Zero Financial Advisers Initiative will be able to report on their emissions using Net Zero Now's platform, evidence their performance in reducing their emissions versus government benchmark figures and achieve a certification to confirm they are 'On the Road to Net Zero'.
Peter Michaelis, Head of the Liontrust Sustainable Investment team, said: "Much of the focus for decarbonisation has been on large well-resourced companies. But it is critical that smaller businesses also take action. This Net Zero Financial Advisers Initiative offers a rigorous yet simple tool that advisers can use to plan their path and measure their progress to a zero carbon world. Liontrust is delighted to have supported its development."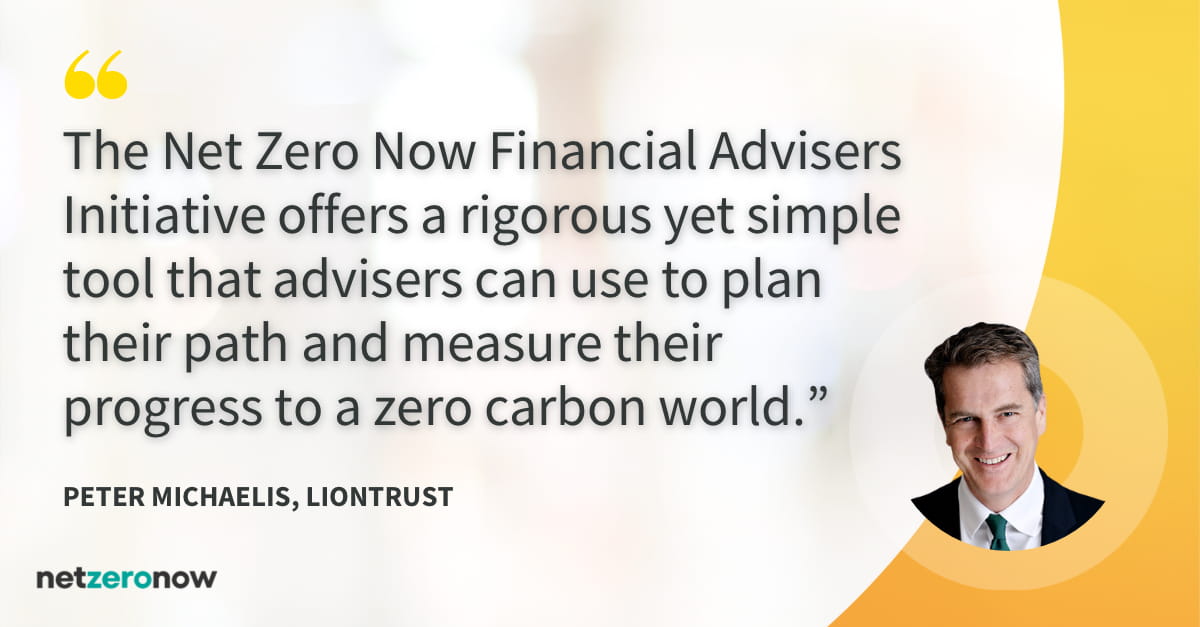 For more information, please visit the Net Zero Now website.
Our approach and commitments