Past performance does not predict future returns. You may get back less than you originally invested. Reference to specific securities is not intended as a recommendation to purchase or sell any investment.
The Bank of England hiked the base rate today by half a percentage point to 5% in a stepping up of efforts to tackle rampant inflation. It was the 13th increase in a row.
While the hike in interest rates will have come as little surprise to most following this week's high inflation figures – albeit to the consternation of many mortgage holders who will see their monthly mortgage payments rise sharply – the decision to increase by half a percentage point rather than a quarter percentage point has moved the dial more dramatically than some expected.
But could this mean that we are coming towards the end of the sequence of rates hikes and furthermore, could there be a silver lining in the opportunities offered by the bond market?
The effect of the many recent base rate increases on the economy tends to lag the data, in that it takes some time for the real effects to be felt. For some experts, the expectation is that previous rate rises will soon begin to catch up the economy – in particular, as growing numbers of fixed rate mortgage deals come to an end – and that therefore we are now nearing the end of the regular rises.
Liontrust's Sustainable Investment Fixed Income team believes this is the case. As fund manager Aitken Ross points out: "Central bank base interest rates typically affect the economy in a lagged manner and we think the market is underestimating the cumulative contractionary pressures that will kick in soon."
According to the BoE, the proportion of fixed-rate mortgages has increased from around 30% in 2010 to around 85% presently.
Ross adds: "Homeowners on fixed-rate mortgages will have been protected against the impact of higher rates, but this will change as they refinance their fixed deals over the coming months and years. This will be a headwind for underlying economic growth.
"With the economic growth outlook looking anaemic and inflation likely to belatedly fall back towards the Bank of England's 2% target next year, we think the case for further rate hikes is limited."
There is growing talk of the UK heading into recession, and if this were to happen then the rate of inflation would be likely to fall as a result of a decrease in consumer demand for goods and services and a fall-off in economic activity.
This could also be good news for bonds, Currently, yields on investment grade sterling corporate bonds are back to levels not seen since before the global financial crisis in 2007, as the chart below shows.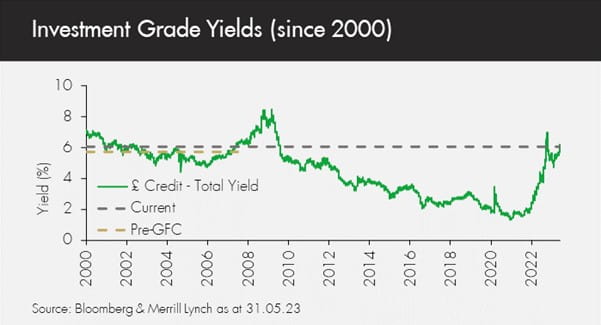 We believe our funds are well positioned to capitalise on the opportunities the asset class now offers.
Not only could a fall in inflation help bonds become even more attractive but according to Ross, corporates are currently in good shape to withstand a possible recession, underpinning the attractiveness of bonds because yields should not rise much further while expected defaults are low.
Ross says: "The bond market is currently very focused on short-term trends in macroeconomic data – such as inflation prints – as it attempts to call the peak in base rates, so we expect more volatility over the course of this year as sentiment fluctuates.
"However, we think long-term investors should view this short-term noise as a mispricing opportunity; with base rates close to peaking, we think current UK government bond yields of 4.4% (10 year bonds) are very attractive."
KEY RISKS
Past performance is not a guide to future performance. The value of an investment and the income generated from it can fall as well as rise and is not guaranteed. You may get back less than you originally invested.
The issue of units/shares in Liontrust Funds may be subject to an initial charge, which will have an impact on the realisable value of the investment, particularly in the short term. Investments should always be considered as long term.
Investment in Funds managed by the Sustainable Future Fixed Income team involves foreign currencies and may be subject to fluctuations in value due to movements in exchange rates. The value of fixed income securities will fall if the issuer is unable to repay its debt or has its credit rating reduced. Generally, the higher the perceived credit risk of the issuer, the higher the rate of interest. For some funds the Distribution Yield and the Underlying Yield may be the same. For some Funds the Distribution Yield may be higher than the Underlying Yield because the fund distributes coupon income and the fund's expenses are charged to capital. This has the effect of increasing dividends while constraining the fund's capital appreciation. Some Funds may invest in derivatives. The use of derivatives may create leverage or gearing. A relatively small movement in the value of a derivative's underlying investment may have a larger impact, positive or negative, on the value of a fund than if the underlying investment was held instead.
DISCLAIMER
This is a marketing communication. Before making an investment, you should read the relevant Prospectus and the Key Investor Information Document (KIID), which provide full product details including investment charges and risks. These documents can be obtained, free of charge, from www.liontrust.co.uk or direct from Liontrust. Always research your own investments. If you are not a professional investor please consult a regulated financial adviser regarding the suitability of such an investment for you and your personal circumstances.
This should not be construed as advice for investment in any product or security mentioned, an offer to buy or sell units/shares of Funds mentioned, or a solicitation to purchase securities in any company or investment product. Examples of stocks are provided for general information only to demonstrate our investment philosophy. The investment being promoted is for units in a fund, not directly in the underlying assets. It contains information and analysis that is believed to be accurate at the time of publication, but is subject to change without notice. Whilst care has been taken in compiling the content of this document, no representation or warranty, express or implied, is made by Liontrust as to its accuracy or completeness, including for external sources (which may have been used) which have not been verified. It should not be copied, forwarded, reproduced, divulged or otherwise distributed in any form whether by way of fax, email, oral or otherwise, in whole or in part without the express and prior written consent of Liontrust.