Past performance does not predict future returns. You may get back less than you originally invested. Reference to specific securities is not intended as a recommendation to purchase or sell any investment.
While energy continues to dominate the emissions debate, it is increasingly clear that changing global diets will be another integral part of any shift towards a more sustainable world. Until recently, obesity and health concerns were the main drivers in moving better diets up the global agenda but we are now seeing growing awareness of the environmental damage caused by meat production.
An element of meat shaming is also creeping in at the edges: F1 star Lewis Hamilton recently went on record to say going vegan is the only way to save the planet, for example.
We often talk about the 'Blue Planet effect' on the plastic waste debate, with Sir David Attenborough's TV programme helping shape public perception of this issue. Meat came under the microscope recently in the BBC's Meat: A Threat to Our Planet? and it will be interesting to see if this has the same kind of impact.
Among the many facts revealed by biologist Liz Bonnin (who also directed last year's Drowning in plastic) was that methane is a greenhouse gas (GHG) around 30 times more powerful than carbon dioxide. This means every one of the 1.5 billion cows on earth – one per five people – heats it as much every year as the CO2 produced by burning 600 litres of petrol. The programme travelled from the pig-rearing regions of North Carolina, where treated manure has turned streams into open sewers, to the Amazon, where cattle-rearing is driving deforestation at the rate of five football pitches a minute.
Data show the opposing forces at work in this sector, potentially along generational lines: figures from consultant AT Kearney put the global meat market at $1,000 billion in 2018 and yet a YouGov survey revealed one in five young adults believe the future will be meat-free. Waitrose has reported that a third of Brits are eating less meat and fish than two years ago and 32% plan to reduce their consumption further over the next two years.
A couple of facts are central to our thinking on this. First is that by 2050, the global population is expected to reach 10 billion and it looks impossible for that many people to eat the amount of meat typical in Western diets while keeping within agreed sustainable development goals (SDGs) for the environment. Equally clear is that protein is a vital part of a healthy diet, essential for growth and repair of the body. Based on our scenario of a 10 billion global population consuming 80g per day (the current average), there will be a 33% increase in demand by 2050.
Figures from nutrition.org.uk show that for the average UK adult, a majority of their protein (64%) comes from meat, fish and dairy. Yet, food and farming are responsible for 25% of total global emissions and the livestock industry, primarily meat and dairy, makes up a significant share of this.
At the heart of this sizable footprint is the feed sector, producing the food for the animals that dominate many of our diets. Red meat (cow, sheep and goat) production is a particularly large source of greenhouse gases (GHG) because of methane production in ruminant digestion; it is irrefutable that creating animal protein has an enormous environmental impact.
The need for grazing space and arable land to grow animal feed is also the single most important driver of deforestation, with further consequences for GHG emissions and biodiversity. The availability of fresh water to maintain fertile land is another concern: according to the Food and Agriculture Organisation and Aquastat, agriculture already uses around 70% of this water.
Producing just one pound of beef currently takes 1,799 gallons of water, 6.6 pounds of grain and 15 pounds of carbon dioxide.
Responding to this situation, a group of influential scientists has now called for governments in all but the world's poorest countries to set a date for 'peak meat', beyond which livestock production will no longer increase.
In a letter to the Lancet Planetary Health Journal, lead author and fellow at Harvard Law School Helen Harwatt said countries should be looking for peak livestock within the next 10 years, with ruminant meat 10 to 100 times more damaging to the climate than plant-based food. The letter was supported by more than 50 experts, including Professor Pete Smith, a senior author of the Intergovernmental Panel on Climate Change Report on land use and climate change, and Professor Sir Ian Boyd, until recently the Chief Scientific Adviser to the UK government on environment, food and farming.
Given all these factors, a recent report from independent think tank RethinkX has claimed we are on the cusp of the deepest, fastest and most consequential disruption of food and agricultural production since the first domestication of plants and animals 10,000 years ago – and the driving force of this is what is known as protein disruption.
According to the think tank, the cost of proteins will be five times cheaper than existing animal proteins by 2030 and 10 times by 2035. Even if these figures prove optimistic, the crucial factor for our theme of Delivering healthier foods is that these alternative proteins are expected to be more nutritious, healthier, better tasting and more convenient.
Alternatives to meat-derived protein currently fall into two camps – plant and insect. Figures from Mordor Intelligence predict the global market for these will hit $8.2 billion and $1.1 billion respectively by 2023, so we are clearly in the early days of growth for both.

Plant protein product sales in € millions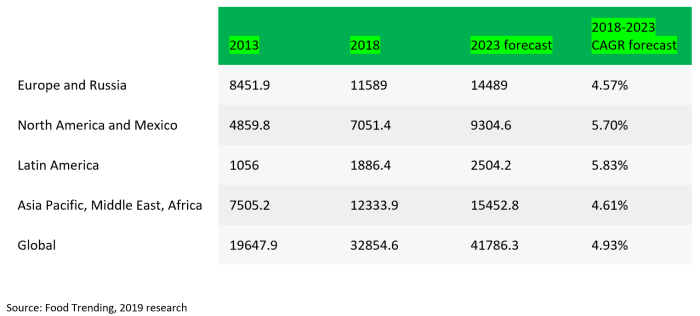 A survey from Irish food ingredients business Kerry revealed that 41% of US consumers have reduced meat consumption compared to a year ago. The same proportion had ordered a plant-based protein meal in a restaurant in the past month and 21% had recently purchased a meat alternative, despite only 13% characterising themselves as vegetarian or vegan. This shows the rise in flexitarianism.

Work by the FAIRR initiative starting last year has assessed 16 multinational businesses to understand how they are positioned to capitalise on rising demand for alternative proteins. The report said Nestlé and Tesco are best placed for the shift, with the latter putting the plant-based Beyond Burger from Beyond Meat on its shelves.
All the companies market at least one own-brand alternative protein product but only three have set goals to increase their portfolio of alternative proteins (M&S, Nestlé and Unilever).
Moving to invertebrates, over 2 billion people worldwide enjoy insects as part of their diet: they are most commonly eaten in Africa, Asia and South America but very little is consumed in Europe and North America.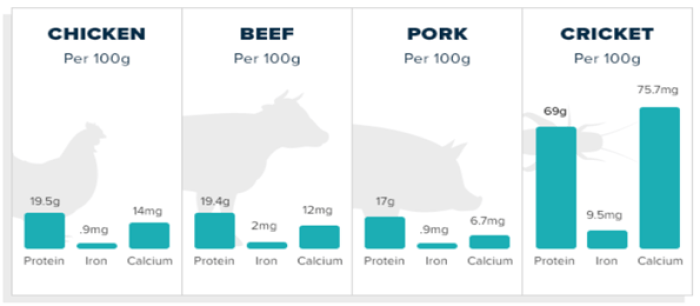 Source: Data from thatsfarming.com, 2019
As the graphic above shows, insects are a nutritious and healthy food source with high fat, protein, vitamin, fibre and mineral content. The composition of unsaturated Omega 3 and fatty acids in mealworms is comparable with that in fish (and higher than in cattle and pigs), while the protein, vitamin and mineral content is similar to fish and meat.

Insects also offer many environmental benefits based on their high feed conversion efficiency. Crickets, for example, require only two kilograms of feed for every 1kg of bodyweight gain. In addition, insects can be reared on organic waste streams (including human and animal waste), helping to tackle the growing problem of food wastage.
Insects also emit far less greenhouse gas and ammonia than cattle or pigs and require less land and water than cattle. As the graphic below shows (albeit with data from cricket provider Aketta), the cricket versus cattle contest is very much in favour of the former, at least from an environmental perspective.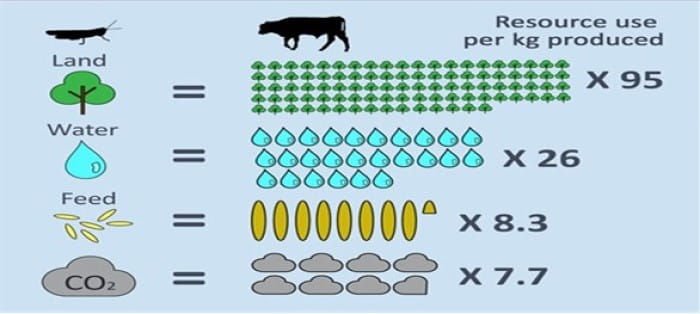 Source: Data from Aketta, 2019
There is nothing like as much in the news about the impact of meat and dairy production as on renewable energy or transport emissions but we feel addressing this situation can have a similar impact on climate change. We expect the same contribution from innovative companies working in livestock, meat and dairy as we have seen in sustainable energy.
Moving away from traditional agricultural models is projected to bring massive environmental benefits, reducing net GHG emissions and also improving deforestation and aquatic pollution from animal waste, hormones and antibiotics.
As a counterpoint to this, we must recognise the potential societal impact of a vastly reduced farming industry, particularly in emerging markets where millions of people are employed in the sector. In Brazil, for example, around 10% of the workforce was in the agricultural industry last year. 2015's Paris Agreement on climate change referenced a 'just transition' to a lower carbon world, recognising the shift would mean challenges for workers, communities and countries – and any move away from an industry that has dominated food production for thousands of years will clearly not be without its upheavals.
Despite this, businesses on the right side of this transition are worthy of investigation whereas those following traditional agriculture models could face serious destruction of value – and as often happens with our themes, markets are underestimating the potential speed and scope of this change.
So where are the investment opportunities? We have to start with the most recognised 'pure-play' alternative protein company in the shape of the aptly named Beyond Meat. The company debuted on the Nasdaq this year and made quite a splash: shares listed at $25 and rose over 800% to a peak of $234 in just a few months.
From the peak, shares then tumbled more than 60% based on concerns over the valuation: a huge 62 times sales while still loss making. Additionally, this is a competitive space with many companies recognising the attractive growth rates and profits to be had from the shift to lower meat consumption.
One such competitor is Impossible Foods, founded in 2011 by a Stanford University Professor aiming to tackle the environmental impact of animal protein. Impossible Foods recently partnered with Burger King to market the Impossible Whopper, which was successful in initial tests and is now being rolled out across other locations.
Impossible Foods remains private, with investors including Bill Gates and Google Ventures valuing it at over $2 billion. The founder reportedly turned down a cash offer from Google in 2015, claiming: "We are absolutely not looking to be acquired. . . no matter how much someone who wants to acquire the company may say they believe in it — no one believes in it with the commitment that we do, and we're not going to put it at risk.
One of our holdings that has benefited from the growth of alternative proteins is Irish company Kerry Group. Kerry continues to develop its protein offering with the new Radicle ingredient range, and these meat and dairy alternative solutions address taste, texture, nutrition and functionality needs in plant-based products.
Kerry also recently acquired Ojah, an innovative Dutch company developing textured meat substitutes with Soy and Pea proteins. We are excited to see how Kerry – and other companies in the sector – builds this technology and taps into the fast-growing alternative protein space.
While there are obvious hurdles to overcome, the direction of travel on livestock, meat and dairy looks as clear today as it is on fossil fuels – and we will continue to invest in companies exposed to such structural trends shaping the economy of the future.
KEY RISKS
Past performance is not a guide to future performance. The value of an investment and the income generated from it can fall as well as rise and is not guaranteed. You may get back less than you originally invested.
The issue of units/shares in Liontrust Funds may be subject to an initial charge, which will have an impact on the realisable value of the investment, particularly in the short term. Investments should always be considered as long term.
Some of the Funds managed by the Sustainable Future team involve foreign currencies and may be subject to fluctuations in value due to movements in exchange rates. Investment in Funds managed by the Sustainable Future team involves foreign currencies and may be subject to fluctuations in value due to movements in exchange rates. The value of fixed income securities will fall if the issuer is unable to repay its debt or has its credit rating reduced. Generally, the higher the perceived credit risk of the issuer, the higher the rate of interest. Some Funds may invest in derivatives. The use of derivatives may create leverage or gearing. A relatively small movement in the value of a derivative's underlying investment may have a larger impact, positive or negative, on the value of a fund than if the underlying investment was held instead.
DISCLAIMER
This is a marketing communication. Before making an investment, you should read the relevant Prospectus and the Key Investor Information Document (KIID), which provide full product details including investment charges and risks. These documents can be obtained, free of charge, from www.liontrust.co.uk or direct from Liontrust. Always research your own investments. If you are not a professional investor please consult a regulated financial adviser regarding the suitability of such an investment for you and your personal circumstances.

This should not be construed as advice for investment in any product or security mentioned, an offer to buy or sell units/shares of Funds mentioned, or a solicitation to purchase securities in any company or investment product. Examples of stocks are provided for general information only to demonstrate our investment philosophy. The investment being promoted is for units in a fund, not directly in the underlying assets. It contains information and analysis that is believed to be accurate at the time of publication, but is subject to change without notice. Whilst care has been taken in compiling the content of this document, no representation or warranty, express or implied, is made by Liontrust as to its accuracy or completeness, including for external sources (which may have been used) which have not been verified. It should not be copied, forwarded, reproduced, divulged or otherwise distributed in any form whether by way of fax, email, oral or otherwise, in whole or in part without the express and prior written consent of Liontrust.