Past performance does not predict future returns. You may get back less than you originally invested. Reference to specific securities is not intended as a recommendation to purchase or sell any investment.
Pharmaceutical companies are clearly at the forefront of the public eye at present but, beyond their urgent efforts against Covid-19, ongoing innovation in healthcare is vital for a more sustainable future.
We continue to see huge advances in technology across areas such as gene editing and DNA sequencing and these are revolutionising how we think about the concept of treatment. The traditional model has a large element of trial and error, with people seeking help when they feel ill and hoping whatever drug or procedure prescribed is effective – but this intervention often proves too late. In contrast, we are moving towards a more personalised system where we can understand how someone's genetic make-up makes them vulnerable to certain diseases, and this is opening new ways to counter conditions such as cancer, dementia and Parkinson's.

With cancer, the healthcare industry has made substantial progress in the prognosis of certain types but many others continue to elude early detection. Late discovery of lung, colorectal, stomach, liver and breast cancers are exceptionally costly in terms of patients' lives and the healthcare system aiming to help them – and ongoing innovation in the field of liquid biopsies shows the possible impact of earlier, more convenient testing. This technology, which allows doctors to detect cancerous cells from a blood draw rather than source tissue, can provide the detail necessary to personalise treatment and has the potential to reverse the current dynamic of poor patient outcomes for so many cancer sufferers.
As is typically the case with our Sustainable Investment themes, particularly those connected to healthcare, the starting point often lies in dispiriting data but this highlights the scale of opportunity in companies looking to improve a particular problem. To go back to first principles, the United Nations' Sustainable Development Goal 3.4 aims to reduce premature mortality from non-communicable disease by a third through prevention and treatment. Prevention is by far the best step, and we have covered areas like better exercise and healthier eating elsewhere, but disease still obviously occurs and treatment is therefore required.
Cancer is the second-leading cause of death globally, behind heart attack/stroke, accounting for an estimated 9.6 million deaths in 2018 (one in six) according to figures from the World Health Organisation (WHO). Lung and colorectal cancers are the deadliest, causing 1.8 million and 860,000 of that 2018 figure respectively. The challenge with these is that many newly diagnosed patients come into the healthcare system too late, as the relevant signs and symptoms appear far enough through the disease's progression to make positive treatment less likely.
More aggressive screening for these cancers would not be without issues when using traditional practices: a standard biopsy is invasive, significantly inconvenient and can involve risk to the patient's health. Given such dynamics, the impetus is often to do nothing early without significant a reason. In contrast, liquid biopsy can potentially reverse this picture; early screening and diagnosis can be done at a lower cost and with less inconvenience to both patient and payment provider, with the additional health benefit of not needing to remove tissue.

At a broad level, liquid biopsy can be useful in several situations and, around that central theme of early detection, the two key ones are in asymptomatic cancer screening, both population wide and among individuals deemed to be high risk. The technology can also have a huge impact on diagnosis and treatment selection, recurrence monitoring (after successful treatment) and, focusing on ongoing innovation, cancer therapy development by biopharma companies.

There is huge patient opportunity if we get this right: in the US, 1.7 million people are diagnosed with cancer a year, as well as 4.4 million in China and 2.7 million in the European Union.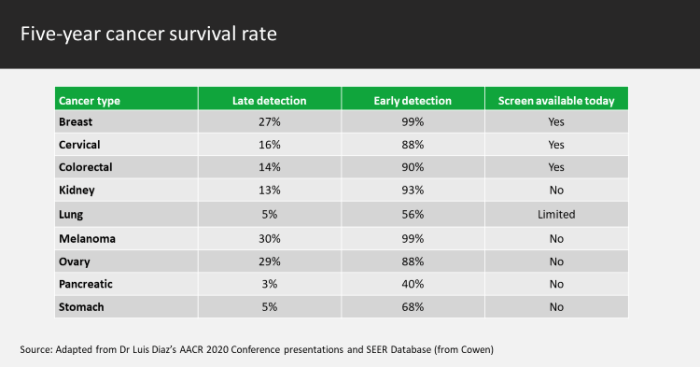 Focusing on the science, liquid biopsy tests focus on different genetic signatures associated with cancer, including tumour cells, nucleic acids, proteins and exosomes. By analysing these, the differences in genomic alterations/mismatches can point to certain forms of cancer or the associated biomarkers, and understanding this more precisely can help identify the best line of therapy.

Early trials give us confidence this is significant. In 2018, for example, Nottingham-based Oncimmune demonstrated the potential of its EarlyCDT Lung blood test to reduce the incidence of patients with late-stage cancer at diagnosis compared with standard clinical methods. More recently, Grail provided data that showed its single draw blood test can detect more than 50 cancers across all stages, with a low false positive rate of less than 1%. When a cancer signal is detected, the test can identify where it is located with 93% accuracy.

As with any healthcare innovation, broad take-up ultimately depends on various levels of acceptance, from regulators, payment providers and, ultimately, physicians – and there are hurdles to be faced before liquid biopsy becomes the standard of care in cancer diagnostics. Looking forward, we need to see liquid biopsy science develop for every kind of cancer detection, followed by clear evidence of efficacy with a real-world patient and economic impact, before there is any chance of broad adoption.

Over the coming years, we hope to see developing price and ease of use arguments that help take this to the level required for universal asymptomatic screening. For now, we highlight early steps in areas such as lung and colon cancer, which sets the stage for the theme to move forward. Companies that have seen early success should continue to build on this and the patient data and experience they obtain will to help refine tests, create new innovations and ensure barriers against later entrants.

Figures from Cowen estimate the market opportunity across all classes of liquid biopsy ranges between $30 billion and $130 billion in the US alone, and, from an investment perspective, there are several names leading the way that warrant further analysis. A number of larger pharmaceuticals are also developing their presence in this area, with Roche, for example, which we hold across our Sustainable Future funds, acquiring Foundation Medicine in 2018.

Based in Cambridge, Massachusetts, Foundation is a molecular information company dedicated to transforming cancer care. Commenting on the deal, Roche CEO Daniel O'Day said the acquisition was key for the company's personalised healthcare strategy as molecular insights and the broad availability of high-quality comprehensive genomic profiling are important enablers for the development of, and access to, new cancer treatments.

As stated at the outset, the pharmaceutical sector is currently in the headlines as it meets the challenge of Covid-19 and we will continue to invest in companies that help enable such innovation. The ability to innovate in order to solve medical needs is what attracts us to healthcare as a sector and with WHO figures predicting up to 16.4 million global deaths a year from cancer by 2040, equivalent to almost a quarter of the UK population, this is another area where such expertise must be brought to bear.
KEY RISKS
Past performance is not a guide to future performance. The value of an investment and the income generated from it can fall as well as rise and is not guaranteed. You may get back less than you originally invested.
The issue of units/shares in Liontrust Funds may be subject to an initial charge, which will have an impact on the realisable value of the investment, particularly in the short term. Investments should always be considered as long term.
Some of the Funds managed by the Sustainable Future team involve foreign currencies and may be subject to fluctuations in value due to movements in exchange rates. Investment in Funds managed by the Sustainable Future team involves foreign currencies and may be subject to fluctuations in value due to movements in exchange rates. The value of fixed income securities will fall if the issuer is unable to repay its debt or has its credit rating reduced. Generally, the higher the perceived credit risk of the issuer, the higher the rate of interest. Some Funds may invest in derivatives. The use of derivatives may create leverage or gearing. A relatively small movement in the value of a derivative's underlying investment may have a larger impact, positive or negative, on the value of a fund than if the underlying investment was held instead.
DISCLAIMER
This is a marketing communication. Before making an investment, you should read the relevant Prospectus and the Key Investor Information Document (KIID), which provide full product details including investment charges and risks. These documents can be obtained, free of charge, from www.liontrust.co.uk or direct from Liontrust. Always research your own investments. If you are not a professional investor please consult a regulated financial adviser regarding the suitability of such an investment for you and your personal circumstances.

This should not be construed as advice for investment in any product or security mentioned, an offer to buy or sell units/shares of Funds mentioned, or a solicitation to purchase securities in any company or investment product. Examples of stocks are provided for general information only to demonstrate our investment philosophy. The investment being promoted is for units in a fund, not directly in the underlying assets. It contains information and analysis that is believed to be accurate at the time of publication, but is subject to change without notice. Whilst care has been taken in compiling the content of this document, no representation or warranty, express or implied, is made by Liontrust as to its accuracy or completeness, including for external sources (which may have been used) which have not been verified. It should not be copied, forwarded, reproduced, divulged or otherwise distributed in any form whether by way of fax, email, oral or otherwise, in whole or in part without the express and prior written consent of Liontrust.