Fund launch date
14/03/2001
Fund size
€150,007,407.28
Managed by current team for
22 years
The Fund
The Irish-domiciled Liontrust GF Sustainable Future Pan-European Growth Fund, which launched on 19 October 2018, is managed by Peter Michaelis & Martyn Jones. The Luxcellence - Liontrust SF Pan-European Equity Fund, which had launched on 14 March 2001, merged into the Liontrust GF Sustainable Future Pan-European Growth Fund on 19 October 2018. The GF Sustainable Future Pan-European Growth Fund aims to generate capital growth by mainly investing in a broad range of European companies. The Fund seeks to achieve this while benefiting society by identifying the key structural growth trends that will shape the global economy of the future and investing in well-run companies whose products and operations capitalise on these powerful trends and, therefore, may benefit financially. All investments will be expected to conform to our ESG criteria.
You are able to redeem your investment from the Fund at any time and there is no exit fee for doing so.
Past performance does not predict future returns. You may get back less than you originally invested. Reference to specific securities is not intended as a recommendation to purchase or sell any investment.
Key Information
Manager Inception Date of Fund
14/03/2001
Ratings and awards

Citywire Manager Rating: +

SFDR
Article 9

Morningstar Analyst Rating: Bronze

3D Investing Fund Rating: AA
Meet the team
Peter Michaelis, who is Head of the 16-strong Liontrust Sustainable Investment team, and Martyn Jones joined Liontrust in April 2017 as part of the acquisition of Alliance Trust Investments (ATI). Peter has been managing money in Sustainable and Responsible Investment for over 20 years when he was promoted to lead Portfolio Manager at Aviva Investors, before being made Head of Sustainable and Responsible Investment. Prior to Liontrust, Martyn spent five years at ATI, initially as a graduate trainee and then as an analyst with the Sustainable Investment team. Martyn has an MA (Hons) in Management from the University of Glasgow and a Masters in Sustainability Leadership at the University of Cambridge.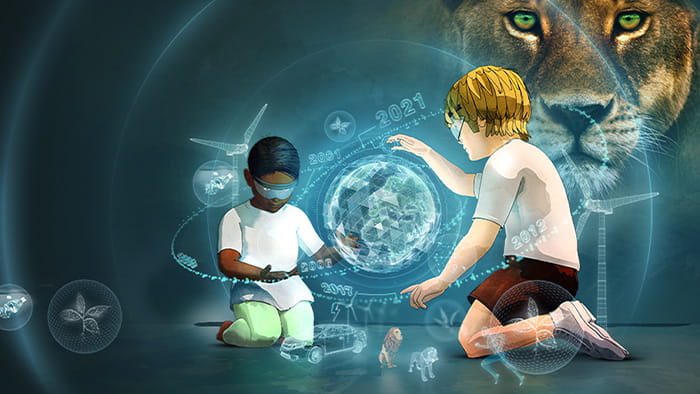 "Over our first 20 years of managing the SF funds, our investments have been successful because they have provided something society needs."
Our Investment Process
The investment process seeks to generate strong returns from investing in companies aiming to deliver profits through positive social and environmental impacts. The fund managers look at the world through the prism of three mega trends – Better resource efficiency (cleaner), Improved health (healthier) and Greater safety and resilience (safer) – and then 20 themes within these.
If a company has significant exposure to one of the themes, the fund managers verify how sustainable the rest of its activities are. For each company, the fund managers determine the key ESG factors that are important indicators of future success and assess how well these are managed, via the proprietary Liontrust Sustainability Matrix.
Companies in which the fund managers invest will have robust business fundamentals with a proven ability to deliver high returns on equity (RoE) through sustaining margins and asset turnover. Typically, these companies have a maintainable competitive advantage through scale, technology or business model.
The fund managers invest in well-run companies whose products and operations capitalise on the transformative changes the Liontrust Sustainable Investment team has highlighted, may benefit financially from them and score well on ESG, business fundamentals and valuation. The managers believe identifying these powerful themes and investing in exposed companies can make for attractive and sustainable investments.
The Fund invests in quality businesses tackling the world's most challenging problems with innovative solutions and these companies, with strong long-term growth prospects, are therefore often designated as 'growth stocks'. Due to this focus, the Fund may underperform the market on a relative basis during periods of rising inflation and interest rates and when quality growth stocks are out of favour.
Past performance does not predict future returns. You may get back less than you originally invested. Reference to specific securities is not intended as a recommendation to purchase or sell any investment.
Performance since manager inception date (%)
Discrete performance (%)
| As at previous quarter 12 months ending: | Sep 23 | Sep 22 | Sep 21 | Sep 20 | Sep 19 |
| --- | --- | --- | --- | --- | --- |
| Liontrust GF Sustainable Future Pan European Growth | 9.9 | -32.9 | 30.5 | 10.1 | 4.7 |
Cumulative performance (%)
| As at previous day end | 1 month | 3 months | 6 months | YTD | 1 year | 3 years | 5 years | 10 years | Since Inception |
| --- | --- | --- | --- | --- | --- | --- | --- | --- | --- |
| Liontrust GF Sustainable Future Pan European Growth | 9.9 | -0.4 | -4.3 | 1.5 | -1.4 | -8.6 | 22.3 | 46.8 | 119.3 |
Source: FE fundinfo as at 28/11/2023. Performance figures are shown in EUR. Total return performance figures are calculated net of costs and charges, on a bid price to bid price basis (mid to mid for OEICs) with net income (dividends) reinvested. Where applicable the quartile rank is for the primary share class within the sector. If your investment is made in a currency other than that used in the past performance calculation the return may increase or decrease as a result of currency fluctuations.
Top 10 Holdings (%)
| | |
| --- | --- |
| ASML HOLDING N.V. | 4.04 |
| 3I GROUP PLC ORD 73 19/22P | 3.41 |
| HALEON PLC | 3.35 |
| LONDON STOCK EXCHANGE GROUP PLC | 3.30 |
| ALCON AG | 3.16 |
| TOPICUS.COM INC | 3.06 |
| ADMIRAL GROUP PLC | 2.91 |
| TRYG AS | 2.84 |
| LIFCO AB (PUBL) | 2.84 |
| ROCHE HLDG AG | 2.83 |
Sector Breakdown (%)
| | | |
| --- | --- | --- |
| Financials | 25.06 | |
| Information Technology | 18.70 | |
| Health Care | 13.89 | |
| Industrials | 13.45 | |
| Consumer Discretionary | 11.65 | |
| Consumer Staples | 5.69 | |
| Communications | 4.17 | |
| Money Market | 3.72 | |
| Materials | 3.64 | |
Geographic Breakdown (%)
| | |
| --- | --- |
| UK | |
| Germany | |
| Switzerland | |
| Denmark | |
| Netherlands | |
| Sweden | |
| France | |
| Luxembourg | |
| Money Market | |
| Norway | |
| Canada | |
| Ireland | |
| Italy | |
| Spain | |
Investment objective & policy
The Fund aims to achieve capital growth over the long term (five years or more) through investment in sustainable securities, mainly consisting of European equities. The Fund is biased towards companies that provide or produce more sustainable products and services as well as having a more progressive approach to the management of environmental, social and governance issues. The Fund will seek to achieve its objective through exposure mainly to equities of companies incorporated in any European Economic Area Member State, the UK and Switzerland, although it can invest globally. In normal conditions the Fund invests at least 75% of its Net Asset Value in European equities. In addition, the Fund may invest in debt securities for liquidity and cash management purposes. Any investment in bonds will be in corporate and government fixed or floating rate instruments which may be rated or unrated up to 25% of the net assets of the Fund. The Fund may also invest in exchange traded funds and other open-ended collective investment schemes. The Fund is not expected to have any exposure to derivatives (contracts whose value is linked to the expected future price movements of an underlying asset) in normal circumstances but may on occasion use them for investment, efficient portfolio management and for hedging purposes. The use of derivatives should not lead to a significant change in the risk profile of the Fund.
Recommended investment horizon
SRI (Summary Risk Indicator)
4 (Please refer to the Fund PRIIP KID for further detail on how this is calculated)
Active / Passive investment style
The Fund is considered to be actively managed in reference to the MSCI Europe Index (the "Benchmark") by virtue of the fact that it uses the benchmark(s) for performance comparison purposes. The benchmark(s) are not used to define the portfolio composition of the Fund and the Fund may be wholly invested in securities which are not constituents of the benchmark.
The Fund is a financial product subject to Article 9 of the Sustainable Finance Disclosure Regulation (SFDR).
Additional Information
Minimum initial investment
€1,000
Minimum additional investment
€1,000
1 January, 1 April, 1 July, 1 October
Charges
Included within the OCF is the Annual Management Charge
1.50%
How to invest in Liontrust funds
Through a fund platform
Through a financial adviser
Direct with Liontrust
Key Risks
Past performance is not a guide to future performance. The value of an investment and the income generated from it can fall as well as rise and is not guaranteed. You may get back less than you originally invested. The issue of units/shares in Liontrust Funds may be subject to an initial charge, which will have an impact on the realisable value of the investment, particularly in the short term. Investments should always be considered as long term.
Investment in the Fund involves foreign currencies and may be subject to fluctuations in value due to movements in exchange rates.

Disclaimer
This is a marketing communication. Before making an investment, you should read the relevant Prospectus and the Key Investor Information Document (KIID), which provide full product details including investment charges and risks. These documents can be obtained, free of charge, from www.liontrust.co.uk or direct from Liontrust. Always research your own investments. If you are not a professional investor please consult a regulated financial adviser regarding the suitability of such an investment for you and your personal circumstances.
This should not be construed as advice for investment in any product or security mentioned, an offer to buy or sell units/shares of Funds mentioned, or a solicitation to purchase securities in any company or investment product. Examples of stocks are provided for general information only to demonstrate our investment philosophy. The investment being promoted is for units in a fund, not directly in the underlying assets. It contains information and analysis that is believed to be accurate at the time of publication, but is subject to change without notice. Whilst care has been taken in compiling the content of this document, no representation or warranty, express or implied, is made by Liontrust as to its accuracy or completeness, including for external sources (which may have been used) which have not been verified. It should not be copied, forwarded, reproduced, divulged or otherwise distributed in any form whether by way of fax, email, oral or otherwise, in whole or in part without the express and prior written consent of Liontrust.